Why Should You Get Your Gutter Guards Installed ASAP?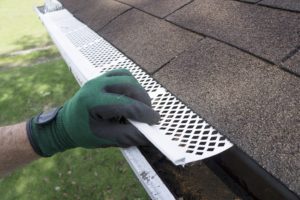 There are certain chores that all homeowners dread and often put away… until the problem arises and it's too late to fix it. Cleaning gutters is one of them. And if not done periodically, clogged gutters can cause serious issues to not only a roof but also the foundation of your house.
There are numerous benefits to gutter guards, the main one – is your health. Those long hours spent on the ladder trying to reach and clean the gutters from the debris can cause you a serious backache. Not to mention what happens when you lose balance and fall off the ladder…
Gutter guards, installed once, not only last longer, but are also a safe way to protect your roof and foundation. They also provide you with a maintenance-free solution. Here are a few more reasons why you should get your gutter guards installed ASAP:
Why Should You Get Gutter Guards Installed ASAP?
1. Standing water in clogged gutters at the end of summer can attract mosquitos to your home…keep your gutters clear for peak pest season!
2. Improperly drained water from your gutters can cause water in your basement. Water pooling at the foundation of your home beneath a clogged gutter seeps down and through into your basement windows/walls.
3. Clogged gutters can cause ice dams that damage your roof and siding when the weather gets colder.
Solution?
Installing top-of-the-line gutter guards, like Rhino Gutter Guards, can structurally improve the strength of your gutters, making them substantially better and able to withstand the weight of any debris or standing water all year long.
Don't wait until it's too late! Having gutter guards installed now will give you a peace of mind and your home an extra shield to weather any season throughout the year.
Ferris Home Improvements are expert gutter installation contractors in Delaware and will work with you to get gutter guards installed on your home. Call us today and enjoy the summer stress-free!