The damages caused by leaks, cracks, and missing shingles are no match for Ferris Home Improvements. We are a local, family-owned and operated company that has served thousands of homes and businesses with quality roof repair throughout Delaware, Southeast Pennsylvania, and Northeast Maryland. We specialize in fixing problems with shingle and flat roofing for residential and commercial properties. We're trained and equipped to detect and fix leaks quickly and with top craftsmanship. We aim to restore your roof and make it look and function like new again.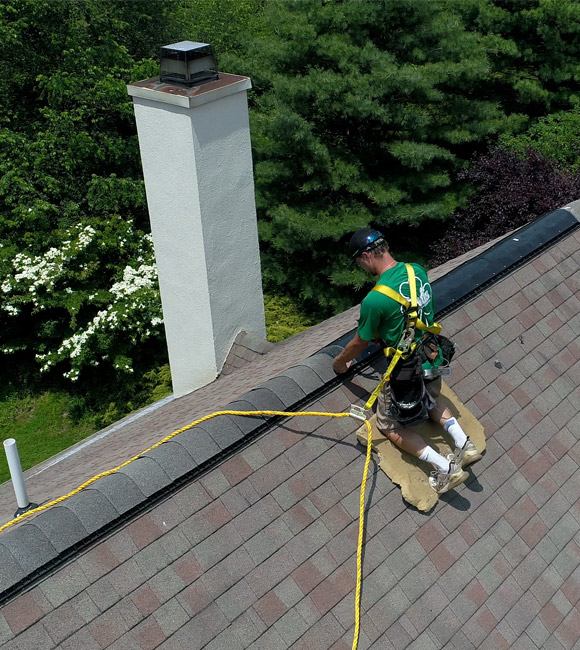 Corrective & Preventative Repairs
We specialize in fixing current issues and preventing them from occurring in the future. Roofs can get damaged in many ways, from falling debris, harsh weather conditions, and general use throughout the years. If you notice chips, cracks, or water leaking from above, we will arrive to assess your roof's exterior and interior structure. Repairing damages now will save you from costly and severe repairs, and we can identify areas of concern within your roofing system and prevent them from worsening.
As seasoned, highly skilled contractors, we can respond swiftly to emergency requests and resolve issues quickly. Catastrophe can strike suddenly, leaving your roof and home vulnerable to further damage and destruction. We've served countless clients during post-disaster recovery and severe weather events. If your roof refuses to stop leaking or missing shingles have allowed pests to infest your home, you can rely on us to come to your aid. We'll determine the fastest way to restore your roof and perform it with the quality you'd expect during a standard repair.
Years of Proven Craft and Commitment
Ferris Home Improvements has proudly served Delaware and parts of the Tri-State area since 2004. Home and business owners choose us because we are a trusted one-stop home improvement shop where quality matters most. Our team has a combined 40 years of experience performing and completing repair jobs of every scope. Whether your roof needs a simple patch-up or a significant fix after disaster strikes, we'll act quickly to fix your issue according to your budget and timeline.