Since 2004, Ferris Home Improvements has been among Delaware's leading siding repair companies. We comprise a team of highly skilled and dedicated craftsmen with a combined 40 years of experience. We can repair every siding material, including wood, aluminum, vinyl, cement board, and more. Our repairs will restore your siding to a beautiful appearance and prevent further damage from occurring within your property. We offer long-lasting repairs to improve your quality of life and energy efficiency.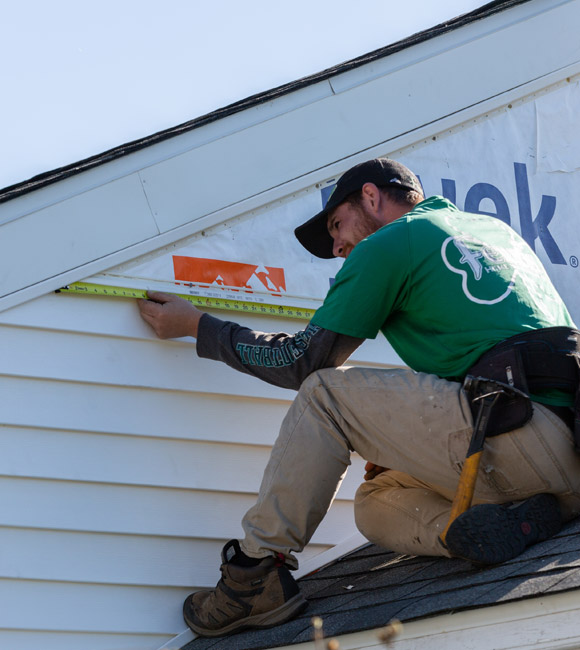 Does My Siding Need to be Repaired?
Good siding is meant to withstand harsh conditions and severe impacts for years. However, even the strongest siding needs repairs and maintenance to last and perform during its lifespan. Signs of disrepair can occur in and outside your home. Siding discoloration is caused by sun damage, while loose or warped wallpaper can indicate moisture and humidity are getting through cracks and breaks in your siding. Damaged siding can also affect energy efficiency and cause your monthly bills to rise, so it's critical to have it inspected when possible.
Fascia wrap is essential to protecting your
home and lowering maintenance
. Fascia is the component where your rain gutters are attached along your home's eaves. Wrap, or cladding, is made of metal and wraps around fascia to reinforce it. When wrapping cracks or breaks, it can allow rainwater and other weather elements into your interior. This can lead to water damage, weakened structural integrity, and animal and insect infestations. You can rely on us to respond to your call and arrive to repair your fascia wrap before it becomes costly.
A soffit is a soft component covering the space between an exterior wall and an eave. Many homeowners install and protect their ventilation systems within it, so it's a vital component of every roofing system. Water leaks and moisture damage can cause soffit material to rot, leaving your home vulnerable to the elements. We specialize in repairing and replacing soffits quickly. After we're done, your soffits will look beautiful, add value to your home, and boost your energy efficiency.
Your Local Siding Repair Pros
As a local, family-owned and operated company, Ferris Home Improvements will treat your property with respect and unmatched care. Our job is not done until you are 100% satisfied with the results. Our years of experience and training with many siding materials make us the best choice for your next remodeling. We offer beautiful, energy-efficient solutions for residential and commercial properties with outstanding craftsmanship and service for each client.