Ferris Home Improvements is a home and business owner's top choice for a comfortable home.
We are a locally owned home improvement company fully trained and equipped to assess, fix and restore all ventilation systems for shingle and flat roofs throughout Delaware and the Tri-state area.
Our team will quickly assess and diagnose problems affecting your insulation and vents. We're committed to 100% customer satisfaction and providing peace of mind and confidence within your property.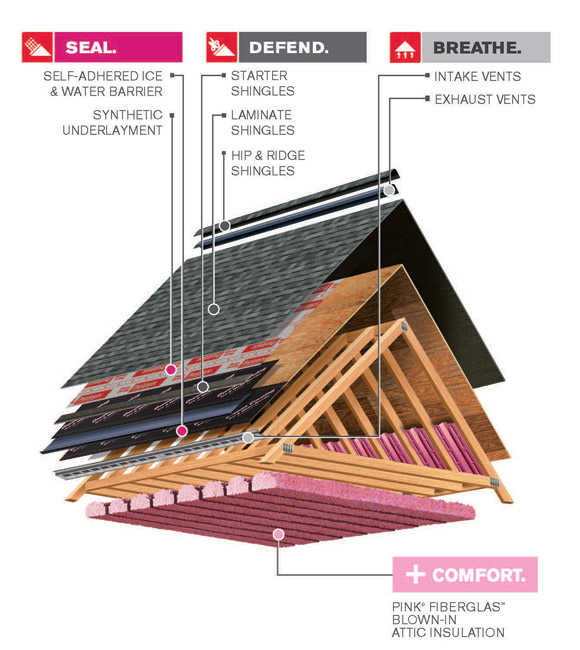 Why Is Ventilation Important?
Some issues may be easy to detect yourself, though significant or structural ones require a professional. Many modern homes have inadequate roof ventilation that cannot keep up with other energy efficient products. Vents commonly get clogged by leaves, twigs, and debris, inhibiting their ability to regulate moisture and heat. A tell-tale sign your venting system needs to be serviced is when your A/C or heating is working harder than needed. When your attic or upstairs refuses to cool with the heat on, you should schedule an assessment as soon as possible.
Proper ventilation is crucial to extending and maintaining your shingles' quality and lifespans. Poor or blocked vents may trap heat and moisture. Excessive buildup can cause shingles to blister and curl. In severe cases, shingles can lose granules or loosen and detach from the roof, leaving your home's interior vulnerable to leaks, weather elements, and pests. We can provide an assessment and determine if your poor ventilation is due to improper installation or a flaw within your roof's structure or design.
The four primary types of flat roof ventilation include passive roof vents, membrane vents, aluminum roof vents, and metal roof vents. Every type ventilates homes and businesses differently. A popular misconception about flat roofs is that they don't require as much ventilation as shingle roofs. But flat roofing needs adequate airflow and regulation like any other style. Our team specializes in installing low-maintenance and cost-effective venting solutions, and we can clear and clean any defective system and return it to optimal function.
Energy Savings for Your Entire Home
Your ventilation does much more than regulate temperatures and comfort levels. It's also vital to saving energy and reducing monthly waste. At Ferris Home Improvements, we have years of experience with the most complex roofing ventilation systems. We will provide a complete assessment and diagnose your precise issue. Whether your vents need to be cleaned or replaced, we'll provide you with top-grade products and services. We'll make you feel cool in the summer, warm in the winter, and energy-efficient year-round.