Ferris Home Improvements offers a variety of gutter products to help you maintain your gutters and protect your home year-round. A Ferris gutter installation is seamless – literally! All of our new gutter installations only feature our seamless gutters—one-piece gutters that run the length of each guttered side of your home, without a break or joint in their run. We also offer gutter cleaning services to keep your minor repairs from becoming a major expense.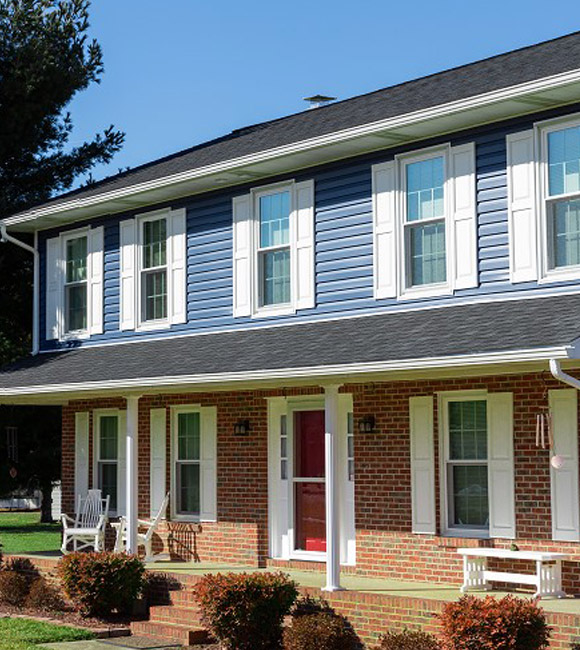 Count on it.
Craftsmanship
No matter the size and scope of the job you entrust to us, our main focus is to work with you and do whatever it takes to help make your vision for your home a reality. Our dedicated staff of skilled construction professionals that we hire locally, has over 40 years of experience, specializing in both commercial and residential indoor and outdoor improvements. Those years of experience ensures the highest quality craftsmanship and attention to detail and a promise that we deliver nothing less than our 100% dedication to the successful completion of your project.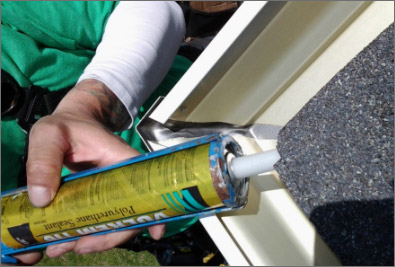 Gutters are not the most prominent feature of your property's exterior but are very important to keeping water off your roof and away from your home or business. Ferris offers gutter products to help maintain your gutters and protect your home year-round.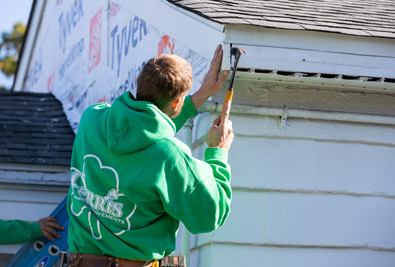 Installing new crisp, clean ventilated soffits can keep your home looking and feeling cool. Curb appeal is critical to your home's resale value, so installing aluminum wrapped fascias can provide lasting beauty and an important investment for your home as well.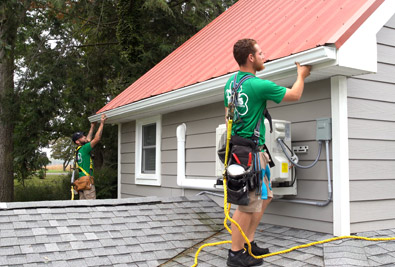 The Ferris Home Improvements gutter experts specialize in gutter installation and repairs, and we offer a variety of gutter products to best meet your needs and budget and provide a custom fit for your home's exterior décor and complement its surrounding landscape.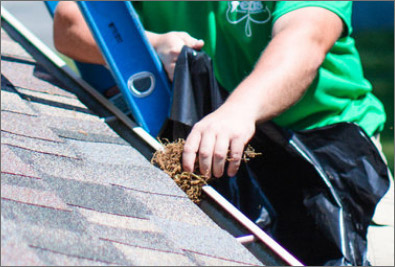 It is crucial to keep your existing gutters in good repair to channel water away from your home or business. Ferris offers several gutter cleaning services and products to help with your gutter maintenance and help maintain efficient water drainage.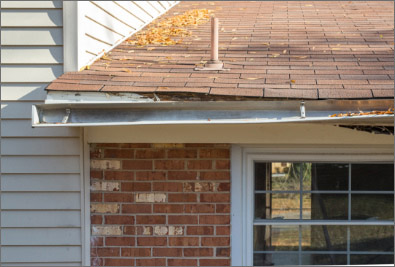 Bad gutters can pose a significant risk to your home. Without prompt attention, clogged gutters allow water to collect on your roof, and weaken and/or rot the wood fascia, soffit or sheathing. We will inspect and recommend repair or replacement of your gutters.
Ferris Home Improvements offers only the best gutter products for your home or business. Seamless gutters have become an industry standard for upgrading your gutter system. The fewer the joints, the smoother the finished product, and the lower chance of debris collection, leaking. Gutter guard installation helps keep natural debris from collecting in and clogging your gutters. Xtreme® Guard is made in the U.S.A. and is a stainless steel micro-mesh over a honeycomb aluminum frame that tops the industry for strength, resistance to sticking debris, and product lifetime. We offer a variety of Gutter Guard products to help keep natural debris from collecting in and clogging your gutters. To help keep your new or replacement gutters functioning properly, we prefer to use hidden, screw-in gutter hangers due to its superior hold and sleek appearance to help preserve your home's beauty and curb appeal.