Ferris Home Improvements is a local, family-owned and operated home improvement company. We specialize in installing innovative StruXure pergolas on Delaware properties, plus parts of Maryland and Pennsylvania, offering a convenient automated experience for homeowners throughout the state. Our team has been among the most trusted for home improvement projects for over 19 years. We partner with homeowners to design and implement the perfect outdoor haven, providing them with years of fun and relaxation. We aim to give your home top quality, convenience, and beauty.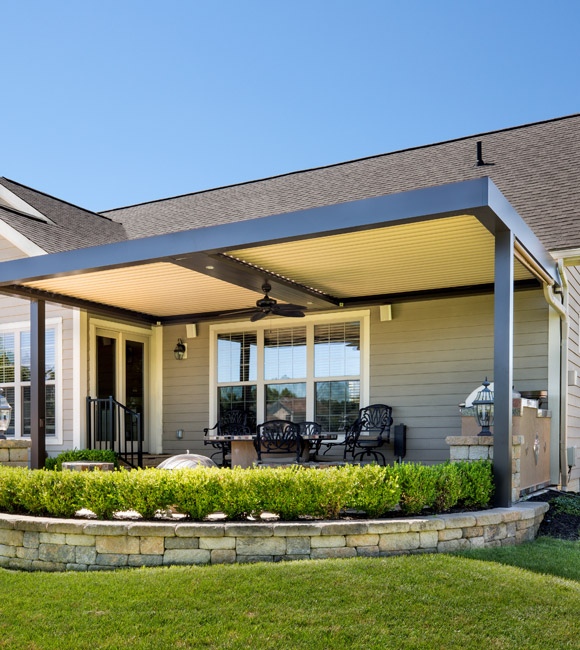 StuXure was established in 2011 by Scott Seltzer and has since become known for introducing smart pergolas to the industry and homeowners. They produce louvered pergolas designed with state-of-the-art technology, among the most advanced in the industry. Their products can self-pivot on command and according to preferences and settings. Products are equipped with rain and wind sensing technology, protecting people and property and regulating weather elements. StruXure's MyLink™ and integration capabilities give homeowners flexibility and allow them to control their pergola system at the click of a smart device.
The Pergola X is the first product from StruXure and remains the most popular among homeowners. It comprises four distinct types: the classic Pivot 6, Pivot 6 XL, Pivot 6 Slide, and Pan 6. Each type provides homes with cutting-edge technology and can accommodate most residential properties. The Pivot 6 XL is best for large homes where more ground needs to be covered. The Pivot 6's sleek sliding lets you adjust its slates as you wish. The Pan 6 allows sunlight and weather in specific areas through isolated automation.
The Cabana X gives homes a beautiful, one-of-a-kind automated outdoor structure for homeowners to relax and enjoy. This product is a cabana-style haven designed with Pergola X technology. Homeowners can choose from the standard Core model or the more advanced Tech model. Core offers easy modular configuration and post-adjustment, while the Tech is equipped with LED color-changing lights and rain and wind sensors. The Cabana X offers users their preferred privacy and comfort levels, which can be adjusted easily with a remote control.
We Merge Beauty and Innovation
Ferris Home Improvements has a five-star quality craftsmanship rating, proving our reputation as one of the best contractors and home improvement companies in Delaware, plus parts of Maryland and Pennsylvania. We install products that look and function according to our client's wants and needs. Your pergola installation will enhance your outdoor living, providing a private, peaceful place for you and your family to cherish for years. Our line of green products improves energy efficiency, enabling homeowners to save on monthly energy costs and spend more time enjoying the outdoors.