Your bathroom should be a comfortable, private place for you to relax and enjoy. Ferris Home Improvements's bathroom remodeling gives Delaware homeowners the planning, professional team, and quality products they need to elevate their indoor space. We are a local, family-owned and operated contracting and home improvement company that's proudly served homes throughout the state since 2004. We offer and install luxury features and amenities. Soothe yourself in a new-and-improved tub or bask in a warm shower. Our seasoned, passionate craftsmen will provide you with the perfect mix of beauty and function.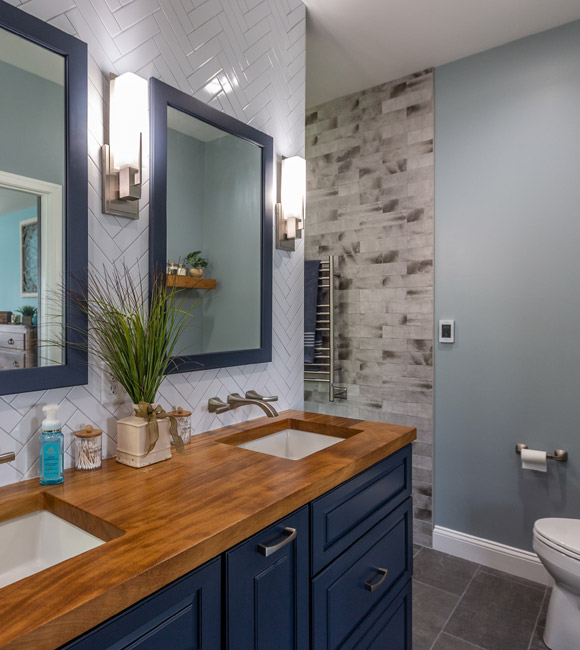 Should I Remodel or Renovate My Bathroom?
Choosing between a remodel and a renovation should boil down to how much work you want to be done to your bathroom. Renovations provide minor updates and repair for paint chipping, cracks, and other cosmetic flaws. Remodeling involves altering your bathroom's layout and structure and can include knocking out walls or removing tubs and toilets. We recommend remodeling your bathroom if you want to fix severe water damage, mold infestation, or permanent disrepair. Remodeling is also a better option for dramatically changing your bathroom's aesthetic and design.
Accommodating Showers, Tubs, Toilets, and Fixtures
Our showroom features a wide variety of unique bathroom fixtures for a successful remodel. Your fixtures are the main components of your bathroom. You use them daily to wash, cleanse, and relax. Our products include showers, tubs, sinks, toilets, faucets, and taps from industry-leading brands. Our shelving and hardware installations complement and enhance your new and current bathroom elements. We offer homeowners the latest fixture products, adding improved energy efficiency to the bathroom you've always wanted.
Custom Cabinets and Countertop Installs
By choosing us for your bathroom cabinets and countertops, you'll receive customized, high-end products offering plenty of space and your ideal style. We offer top-line cabinets designed to fit any bathroom's size, shape, and dimension. Whether you need expansive or compact cabinetry, we'll install it to your exact specifications and ensure your bathroom has plenty of storage. Our smooth, highly durable countertop line includes quartz and granite and can be made with your desired color and patterns, and they are exceptionally easy to maintain.
Partnering With You to Achieve Your Vision
We're here to turn your bathroom into a personal oasis you'll love for years. We involve ourselves in every step of the remodeling process. From product selection, design, installation, and applying finishing touches, we're the single point of contact on which you can rely. We'll help you design your bathroom to your desired specifications and choose the products best suited to turn your dream into a reality. We would love to guide you through our vast showroom of fixtures and amenities and create the bathroom you've always wanted.