Do you want to elevate your outdoor space and living? The team at Ferris Home Improvements is here for you. For over 19 years, we've specialized in many decking services,
including curved railings, 3-season rooms, pergolas and screen porches throughout Delaware, plus parts of Maryland and Pennsylvania
. Our award winning and dedicated staff helps home and business owners plan, design, and install the outdoor oasis of their dreams. Clients who choose us receive beautiful, functional outdoor living spaces, customized to fit their lifestyle and boost their happiness within their property.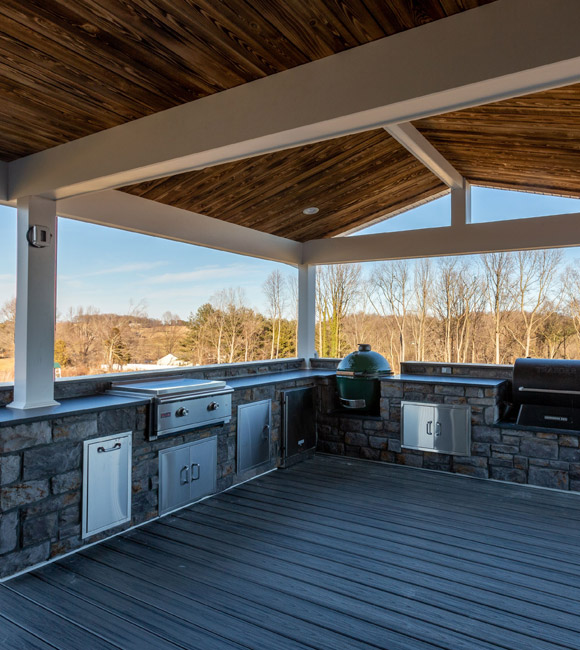 The Complete Outdoor Living Experience
Outdoor living services allow you to maximize your outdoor space and enjoy spending time there. Our outdoor services include:
Decking: Deck material and component installation, including railings, steps, foundations, and lighting.
Screen Room: Rooms added to decks, porches, or patios, protected by durable screens.
Covered Porches: An enclosed area that provides comfort and relaxation.
Outdoor Kitchens: A beautiful area to cook, prepare meals, and gather with friends and family.
Stamped Concrete: A concrete that emulates the textures and patterns of other materials for a unique design.
Custom Railing: Railing specially designed and installed to fulfill specific needs.
Dry Space: Spaces protected from rain, snow, and other weather elements.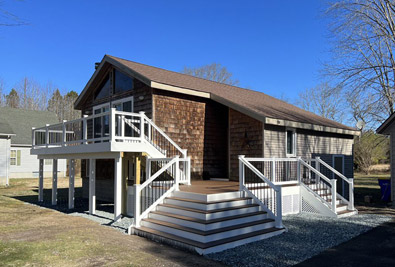 Your outdoor space is an extension of your indoor space, so it should reflect your aesthetic and personality and support your lifestyle as much as your interior. We will design and customize your deck and railings to your precise specifications and needs.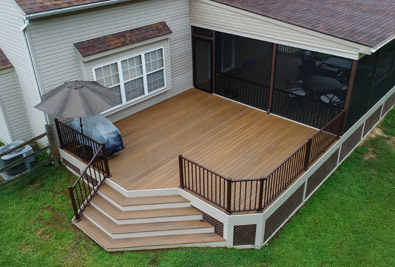 Screen Rooms & 3-Season Rooms
Our three-season and screened rooms enable you to enjoy the outdoors for most months of the year. Feel comfortable and enjoy spending time alone or with others before harsh, cold weather arrives.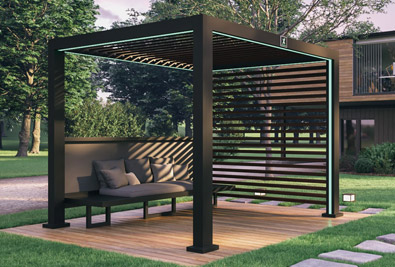 We provide outdoor havens, including the Cabana X and Pergola X from StuXure. They are among the most innovative in the industry, equipped with the latest controls, features, and systems to elevate your outdoor experience.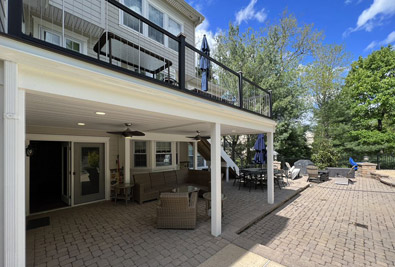 We install dry spaces and outdoor lighting to keep you and your property safe. Dry space collects and drains moisture away from your home, while our powerful lighting installations allow you to see day and night clearly.
Quality Deck Products for Property Owners
We pride ourselves on being your premier outdoor living provider in Delaware, plus parts of Maryland and Pennsylvania. We provide homeowners with all the resources needed to bring their outdoor living space to life. From color selection to custom railing and 3-D renderings, Ferris is prepared to make your dream your reality.
Green Benefits for Delaware Homes
Do you want to go green with your next deck repair, replacement, or installation project? Ask Ferris Home Improvements about our composite deck materials. Trex®/Fiberon composite deck boards are manufactured with recycled wood and plastic. They offer home and business owners efficient ways to elevate their outdoor space while reducing waste and being a better option for the environment. Ferris is the choice for you if you want to enjoy your deck and feel good about your environmental impact.