5 Safe Gutter Cleaning Tips to Keep Them up to the Job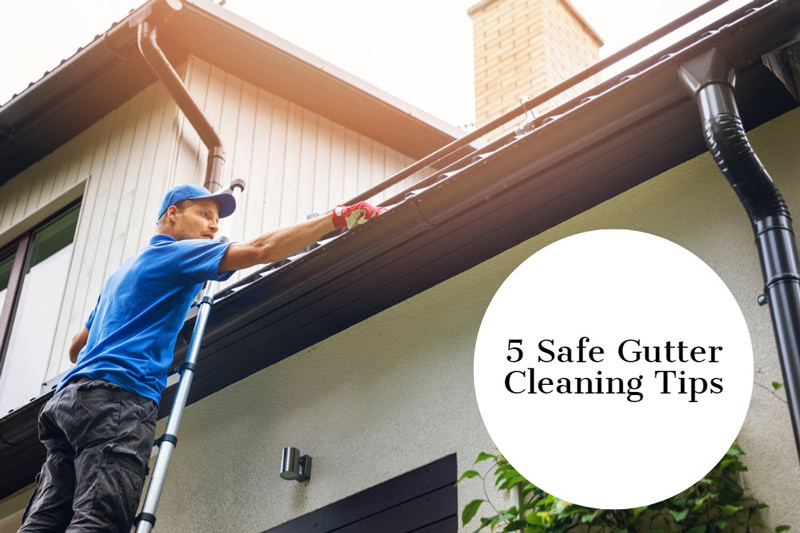 5 Gutter Cleaning Tips: Keep gutters clear of debris and well-maintained to protect all aspects of your home. Faulty or clogged gutters can cause damage to your roof, siding and foundation. Follow these safe gutter-cleaning tips to protect your home.
It Is Important to Clean Out and Inspect Your Gutters Twice a Year to Ensure They Are Doing the Job!
Put safety first! Know the proper way to clean out your gutters to prevent injuries or worse. Most injuries are preventable.
5 Safe Gutter Cleaning Tips:
Ladder Safety: Cleaning out gutters the old-fashioned way? Use a STURDY ladder with a shelf strong enough to hold a bucket full of debris. Notify a family member or neighbor you will be using a ladder to work on gutters.
Gloves: Be sure to wear gloves to protect hands from debris ridden with bacteria, torn metal shards or ragged edges.
Protective Eyewear: It is impossible to anticipate what might fly out of gutters at high velocity … bees, birds, etc … escaping from a newly unclogged gutter has a real potential of causing an eye injury.
Wear Rubber Sole Shoes: Prevent falls and slips when climbing a ladder by wearing shoes with rubber treads.
Power Line Hazard: Use caution around power cables especially when the protective insulation cover has deteriorated. Contact an electrician about any damaged cables.
Now that you know how to safely clean your gutters, get to work!
Prefer to hire someone to clean out your gutters? Call Ferris Home Improvements at 302-300-1272
RELATED ARTICLES:
---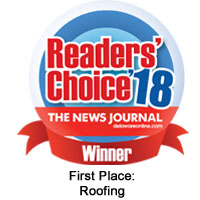 Come visit our brand new, state-of-the-art showroom on Kirkwood Highway in Newark, DE 19711! Your home improvements are a big investment, and we want you to feel confident in your selections.
Contact the local home improvement contractor who you can trust with your gutter replacements or gutter repair. We've been voted #1 home improvement contractor in Delaware year after year.