5 Safe Gutter Cleaning Tips and Tricks From Ferris Home Improvements
Clean Your Gutters for Winter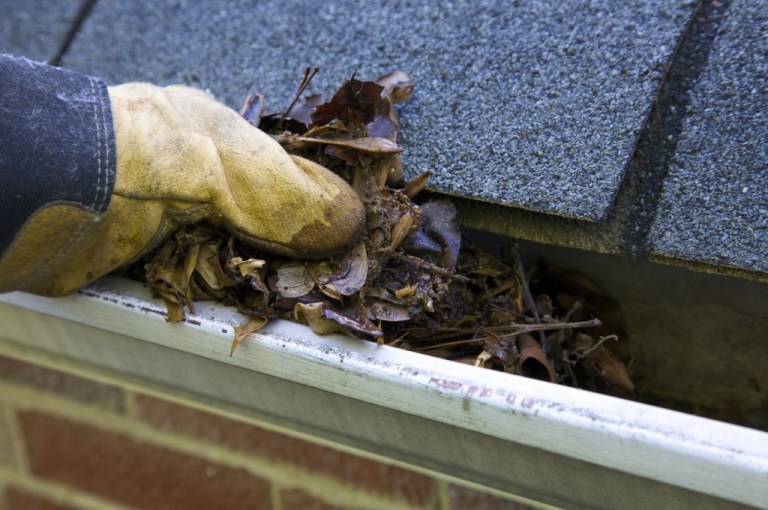 Many look forward to the fall months where cooler temperatures make for simple life pleasures such as pumpkin spice lattes, cheering on our favorite football team, watching the kids excel at their favorite sport, hayrides and bonfires.
While fall is perfect time for many fun things, there are certain 'must-do' fall chores homeowners face, such as gutter cleaning, maintenance and repair.
Keeping gutters clean of debris and well-maintained will protect all aspects of your home. Faulty or clogged gutters can cause damage to your roof, siding and foundation. Follow safe gutter cleaning tips and tricks to protect your home.
Backed-up water in gutters can cause ice damns in the winter, which can allow water to seep under shingles or behind siding and/or stucco. Misdirected downspouts can cause flooding close to your foundation which could then enter your basement.
That is why those of us at Ferris Home Improvement suggest to our clients that they clean and inspect their gutters twice a year to make sure they are doing the job right!
Here Are 5 Safe Gutter Cleaning Tips & Tricks:
1) Safety First:
If more homeowners knew the proper way to clean out their roof gutters, there would be less deaths and injuries. Most injuries that occur are preventable.
Ladder Safety: If you are cleaning out gutters the old-fashioned way be sure to use a safe and sturdy ladder with a shelf strong enough to hold a bucket full of debris. Notify someone, a neighbor or relative that you will be using a ladder to work on roof and gutters.
Gloves: Be sure to wear gloves to protect hands from debris that is ridden with bacteria and from any torn metal shards or ragged edges.
Protective Eyewear: It is impossible to anticipate what might come flying out of the downspout when cleaning gutters. Bees, wasps, birds, frogs, and rodents fleeing at top velocity from a newly unclogged gutter has a real potential of causing an eye injury.
Rubber Shoes: Be sure to use shoes that will prevent slipping and falls when walking on a rooftop or ladder.
Power Line Hazard: Be cautious when working around any power line cables that might have their protective wire insulation compromised due to years of wear and tear. If a cable appears damaged, call a licensed electrical contractor to repair.
2) Gutter Scoop:
Scooping out debris is typically the best overall method to clean out gutters. After taking all the above safety precautions, use an official 'Gutter Getter' scoop which can be purchased a most hardware stores.
You can also use a plastic spatula or a small garden shovel to scoop the debris into the waiting 5 gallon bucket that is secured to the ladder shelf with lanyard.
3) Garden Hose:
Use a garden hose with a pistol-grip trigger spray nozzle. This type of spray nozzle allows you to adjust the water pressure with the use of just one hand.
Make sure the downspouts (leader pipe) are clear. After all the gutters are cleaned out, run the water hose down the downspout at full pressure. If the water backs up out of the top, a clog is present.
4) Rain Gutter Cleaner:
Use this ingenious method that uses water pressure from your garden hose to clean out your gutters and eliminates the need for a ladder.
Follow this link for a tutorial on how to assemble the cleaner using pvc pipe, a pvc valve, sprinkler riser and a few other items you can purchase a your local hardware store. The cost is under $10 or you could purchase Orbit Telescoping Gutter Cleaning Wand at Amazon for under $20
5) Assemble the Gutter Blaster:
Straight from the 'Hack My Life – Hack My House: Gutter Blaster! Watch this video to learn their ingenious hack that makes cleaning your gutters a breeze!
Now that you know a good amount about how to safely clean your gutters, get to work! Your neighbors will be impressed with your new skills – just please remember to let someone know if you plan on using the ladder method.
If you prefer to hire someone to clean out your home's gutters, give Ferris Home Improvements a call us at 302-300-1272 and mention the coupon below.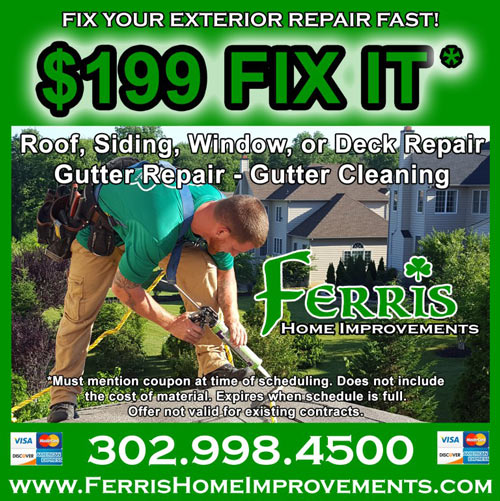 Making wise choices such as cleaning and maintaining your gutters can keep them working efficiently to protect your home's roof, siding and foundation.
Be sure to contact our expert contractors at Ferris Home Improvements of Delaware if you need help. A reliable home improvement contractor located in Delaware with a stellar reputation.
We Look Forward to Helping You With All Your Home Remodel Needs!