5 Must Have Features In Your New Siding
Investing in a new siding is one of the best ways to increase your home's curb appeal. Since we're talking about covering your whole property, it sure is a major feature to consider before you start your home improvements. If done right, you will instantly transform the look of your house giving it that much needed refresh.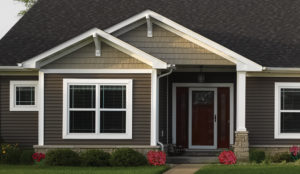 Whether you're looking to sell your house soon or later in the future, getting a new exterior will surely place your home higher on the market. At Ferris Home Improvements, we recommend our customers to invest in a makeover now, so they also get to enjoy the results (and being the 'talk of the neighborhood') while they still can!
Ready to make a decision? Make sure to include these 5 Must Have Features in Your New Siding:
5 Must Have Features In Your New Siding
Color. Your best investment starts with picking the right colors! Select a color that suits existing surfaces which you don't want to change (roof color, brick or stone, etc.). Doing so can greatly impact the overall curb appeal of your home's appearance.
Texture. It can be a solid look, a total wood look, or a combination of different styles. The options are endless, so enjoy the variety and make sure the siding materials and textures looks you pick will best match your home's style. Whatever you decide on, make sure to highlight unique features of your home!
Accents. A pop of color, unique trim and/or embellishments that stand out from your siding's solid color can make a huge difference! Those will alsoserve as a great way to display your style while building up home character!
Efficiency. If there's a way to save money on energy bills, we're going to find it. New vapor barrier installation and energy-efficient materials like insulated siding can greatly reduce your bills and get your money back!
Contrast. Of course, you should always stick to your Homeowners' Association Rules and Regulations, but finding ways to stay unique among others is always fun!
Needless to say, making wise choices for you home remodeling can offer you a major return on your investment. Be sure to contact our experts at Ferris Home Improvements of Delaware. A reliable contractor will ensure your renovations are easy and fast, so you can enjoy your home sooner rather than later!