That's Not Dirt on Your Roof. It's Algae!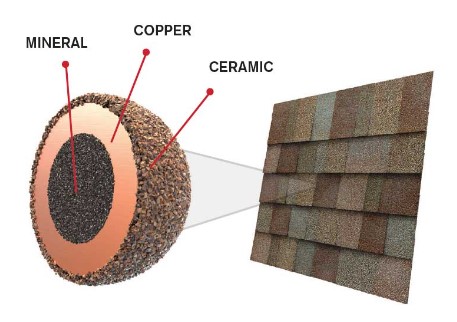 Ahh, spring. The weather warms, the tulips are blooming, and trees are in blossom. The lawn is freshly mowed and the flower beds are trimmed. Your siding and gutters are fresh and clean, and you just love your home. Until you look up. Your roof looks dirty and you hate what that does to your home's curb appeal.
It's Algae
That's not dirt. It's alive. It's algae, probably blue-green algae, and it loves Delaware's hot, humid summers. It floats in the air, latching onto the roof where it lives on the limestone in the shingles, and grows happily, creating brown or black streaks. The streaks can eventually continue downward and discolor the trim and siding.
Algae are unlikely to damage the roof, but getting rid of it is difficult. It requires spraying a bleach solution uniformly across the surface and then rinsing carefully to protect the roof nails. It's a complex undertaking for a homeowner and is best done by professionals who know how to protect shingles. This process will need to be repeated during the life of the roof.
Warning: whatever you do, don't try to power-wash the algae from your roof. The strength of the flow can dislodge shingles, break the bonds between shingles, and degrade sealants. Seriously, call a pro.
It Gets Worse
Over time, roof algae can mate with fungus to produce lichen, a more destructive organism that is harder to remove than algae. And there's more… lichen can lead to the growth of moss, which inserts roots into and below your shingles as it grows on your roof. As the roots absorb water, they damage the roof, and in winter, will freeze and potentially crack the roof surface. The integrity of your roof goes downhill once algae and other organisms take hold.
Algae Resistant Shingles
The good news is that our preferred shingle manufacturer, Owens Corning, offers roofing materials that inhibit the growth of blue-green algae and a great new warranty that stands behind the product! The shingles are completely non-toxic and will not damage the foundation planting around your home.
Owens Corning StreakGuard® Algae Resistance Protection shingles are the culmination of more than 30 years of research and development on how to repel algae growth. The algae resistance comes from using a specialized metal and copper-lined granule that algae hate.
StreakGuard shingles are available in the wide variety of popular styles and colors that Owens Corning is known for – including this year's Shingle Color of the Year, Midnight Plum.
Industry-Leading 25-Year Warranty
And this is an important point: Virtually maintenance-free, Streak Guard shingles come with an industry-leading 25-year Algae Resistance Limited Warranty. Other algae-resistant shingle manufacturers offer warranties as short as two years, and some offer a 10- or 15-year policy. At 25 years, Owens Corning is head-and-shoulders ahead of the pack.
Ask Us How You Can Avoid Algae
So when you've had enough of those black streaks and you're ready to invest in a beautiful crowning touch to your home, make sure you ask us to show you Owens Corning's StreakGuard algae-resistant lines. Make the change and eliminate the need for repeated roof cleanings and algae damage to the roofing system. We're sure you'll find one you love, whether you prefer elegant architectural or dimensional shingles, slate look, three-tab styles, or traditional non-dimensional styles.
Don't allow algae streaks to negatively impact curb appeal and lower the value of your home ever again with a top-quality roof from Owens Corning. Then, feel free to look all the way to the roof when you're admiring how beautifully you've maintained your home.