The Importance of Maintaining Your Home's Gutter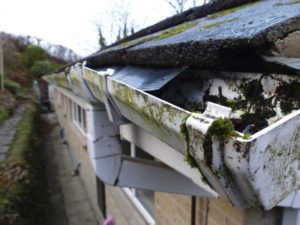 Making an effort to maintain and clean out your downspouts and gutters can prolong the life of your roof, siding, and foundation. It will help to avoid costly repairs.
Do I Really Have to Repair My Gutters?
Yes! The purpose of gutters and downspouts is to divert rainwater away from your roof and foundation. Keeping them cleaned out and maintained is important as it will prevent ice damns in colder temperatures and excess moisture buildup year round.
Risk vs. Reward When Neglecting Hanging, Clogged, or Disconnected Gutters
Hint: There is NO Reward
When gutters enable proper drainage, the water will be channeled away from your house. However, if you have gutter problems such as clogs due to debris buildup, rust or unfastened gutters, the water can be channeled directly down towards your foundation. This could cause all types of damage, from weakened fascia to mold to settling walls. Water channeling toward a home's foundation can cause seepage into basements and crawl spaces. So the Risk of not keeping up on Gutter Repairs is costly damage to your home.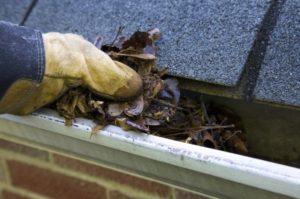 Clean Out Debris to Prevent Damage to Roof and Foundation
Homes located in a heavily wooded lot should remove tree branches close to the roof. Heavy rain, snow, or winds can cause branches to break and damage your roof. You may want to consider investing in gutter guards to avoid the consistent clogging and debris buildup that can occur in such situations.
If your gutters have reached their lifespan and it's time to replace them, consider investing in seamless gutters, they have become an industry standard when upgrading a home's gutter system.
While gutter and drainage systems can be maintained by the owner, often it makes sense for homeowners to contact a gutter repair and roofing company to perform the inspection and maintenance for them. Not only is this a safer option, but having a professional roofing contractor perform a full inspection of both the roof and water drainage system at the same time can alleviate costly repairs down the road.