Home Improvement Reliability and Trust Lead to Loyalty
Reliability and Trust Lead to Loyalty
About a year and a half ago, Dan and his wife bought a home in the Dover area that had been built about 15 years previously. In short order, Dan began to uncover that some repairs were needed – some that were not inconsequential — that had been put off by the previous owners. Dan thought he'd get those taken care of before they presented bigger issues.
So He Set Out to Find a Home Improvement Contractor.
"It turned into almost a part-time job to find a contractor who could do the work and who would actually show up," Dan said. For nearly a year, Dan met with a virtual parade of home repair businesses and one after one, they didn't work out. Some came to see the job but never followed up with an estimate. Others sent the estimate but never showed up on the start date. "I was desperate to find someone I could trust," he said.
Then one day Dan drove past the Ferris Home Improvements showroom on Route 1 in Rehoboth. And the lightbulb went on: "Here's a place with an actual office space! They're legit; they're not fly-by night like a random guy with a pickup can be!" So he made the call, and it was Ferris to the Rescue.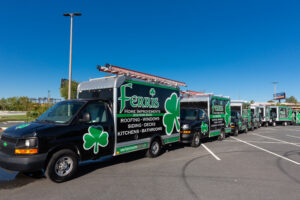 "What you expect a contractor to do, but they don't, Ferris does! The work was drama-free, done properly and on schedule. The workers were so pleasant – you can tell they're well treated by their company. They are genuinely happy people who care about the customer. And when you call the office, they actually pick up the phone!"
"The price was very reasonable. They weren't the cheapest, but they were fair. I didn't want the cheapest. I wanted to get good work at a competitive price, done by people I could trust. If you value your time and the quality of the work, you don't go for the cheapest."
Over the past three months, Dan has come back to Ferris time and again for repair jobs. The list is long: fixing rotten porch columns, window fitting, soffit repairs, leaking siding, roofing repair, a leaking garage header, leaking sunroom windows and badly installed flashing.
"Ferris was basically my General Contractor – which was just what I wanted. As the homeowner, I knew about the problems that began with the construction and then were made worse by 16 years of neglect. But I spent a year wringing my hands looking for a contractor who fit the bill. Once I found Ferris, I could relax. They can do it all."
"Even if I heard of another good contractor I would still be loyal to Ferris. They told me exactly what they were going to do, and they did it. They delivered. I'll always give them the edge."