Common Winter Roofing Problems
The beauty of a snowstorm conjures up fond memories of childhood afternoons spent sledding and making snow angels. Unfortunately, as a homeowner, you see the ugly side of below-freezing weather, snow and ice– and we don't mean shovelling. Winter weather can be a home's enemy, and when it wins the battle, it can lead to a desperate call to a residential roofing contractor. Be aware of the types of weather that your roof endures, and be vigilant. The best roof repairs are small repairs that are done promptly to avoid roof degradation.
Several problems can occur that could lead to costly roofing repairs or even roof replacement: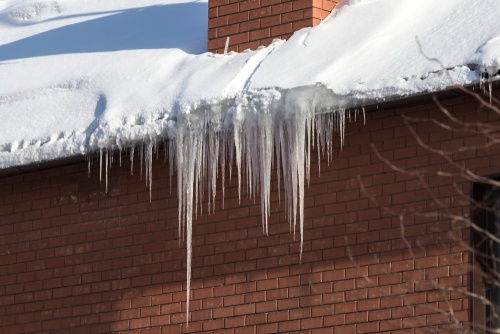 Accumulated snow or ice that begins to thaw during the day and refreeze when the sun goes down can spell disaster for a roof's integrity. When this cycle of thawing and refreezing occurs, it could allow for water to seep into any cracks or faulty flashing and freeze, expanding the crack and causing leakage.
Improperly insulated attics can allow condensation which leads to mold and mildew. A properly ventilated attic also can help avoid damage to a roof, eliminating the creation of ice dams that reduce the lifespan of your roof and cause damage to the exterior of your home.
Termal shock that occurs when the sun heats the roof's surface during the day and the night temperature dips below freezing can cause older roof membranes to lose tensile strength and their ability to expand and contract.
Debris buildup in gutters and downspouts can lead to a icicle formations that are not only dangerous to people, but their excess weight can cause gutter and roof damage.
If you see any of these conditions on your roof or gutters, give us a call us at Ferris Home Improvement. We are roofing contractors in Delaware — from Claymont to Hockessin and Rehoboth — that can help with any roof repairs and preventative maintenance. All roof checkups are free and come with absolutely no-obligation. We'll show you photos exactly what we find on your roof, and we'll go over all your options, from repair to replacement. There's never any high-pressure to do work you don't feel ready to do. Call us, secure in the knowledge that we have built our business on integrity, and we will be honest with you in all our dealings.