Fall and Winter Home Maintenance Checklist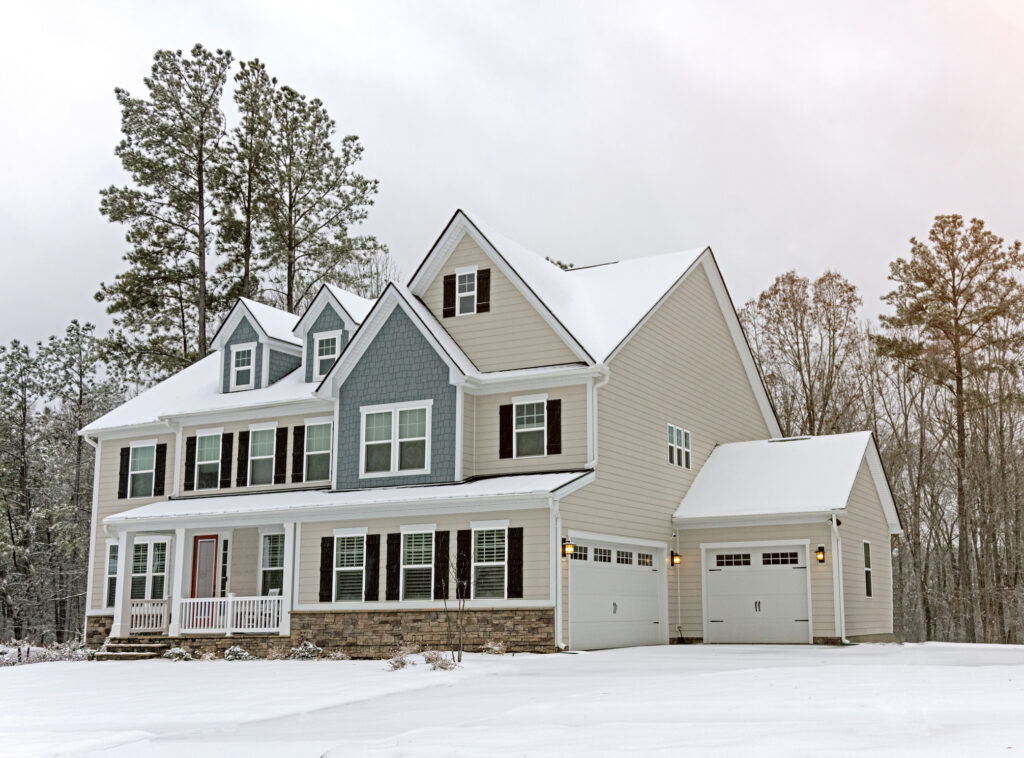 As the days grow shorter and the air gets cooler, you know fall has arrived. This is your prep season, a time to roll up your sleeves and get serious about home maintenance. A few preemptive measures can safeguard your home against damage and prevent costly repairs. Follow this fall maintenance checklist to prepare your home for whatever winter brings.
Repair the Gutters and Downspouts
Gutters and downspouts are your home's drainage system, funneling water away to protect your roof and siding. When winter rolls in, trapped water can freeze, expand, and cause havoc. To prevent this scenario, include the following gutter repairs on your home maintenance checklist:
Remove leaves, twigs, and other debris from the gutters. Flush out the remaining muck with a hose to ensure free-flowing water.
Extend downspouts away from your home by at least four to five feet. This distance helps prevent pooling water, which can lead to foundation issues.
Patch any holes, secure loose sections, and seal gaps. Small problems can escalate when winter hits, so it's best to address them now.
Invest in gutter guards to minimize debris in the gutters, reducing the need for future cleaning and maintenance.
Replace sagging or rusting gutters so they're ready for winter.
Inspect the Roof
Snow and rain can be unforgiving on a weak roof, and the last thing you need is water dripping into your attic. Follow these roof repair tips to protect your home from ice, wind, rain, hail, and snow this winter:
Examine your shingles closely. If any are missing, cracked, or warped, it's time for a roof repair or replacement.
Clear debris from the roof to prevent trapping water and causing leaks.
Check for loose or cracked areas around vents and pipes. These weak points allow water to enter your home.
Hire a professional roofer or home improvement company to conduct a thorough inspection and perform any necessary repairs.
Check the Attic
A peek inside the attic hatch can tell you a lot about your roof's condition. Here's what to do in the attic before winter sets in:
Check the insulation for discoloration, matting, or dampness. Note dusty or dirty insulation since this can signal an air leak. You may need to remove the existing insulation, air seal with caulk or expanding foam, and install new insulation.
Watch for pest droppings or signs of nesting. Call an exterminator if necessary, and then seal gaps around vents and pipes to eliminate entry points.
Look for water stains or rot on the roof decking visible from the attic. These are early signs of possible roof leaks that you should address now.
Repair the Siding
While siding is generally low maintenance, it forms your home's protective shell. Any cracks or holes invite trouble, so take action. Here's what to do:
Check for loose or damaged siding. Fix or replace sections as needed.
Notice any small holes? That could mean pests are getting inside. Act fast and call an exterminator.
Complete painting and caulking before freezing winter weather makes these tasks more challenging.
Trim back tree branches or bushes that touch your siding. They can trap moisture and invite pests.
Take Snow Management Measures
Managing snowmelt on your property is important to keep driveways and sidewalks safe. Here are the top fall and winter maintenance tasks related to snow management:
Stock up on deicers, check the condition of your shovels, and ensure your snow blower is in working condition.
Install snow poles or reflective markers along your driveway to help you or your snow removal service stay on course.
Schedule a Home Energy Audit
A home energy audit can greatly reduce your utility bills and improve home comfort this winter. The Home Performance with Energy Star program offered by Energize Delaware provides an excellent opportunity for homeowners in the state. A contractor or energy advisor will install up to $200 worth of energy-saving measures at no extra cost, including energy-efficient light bulbs, faucet aerators, and water heater pipe insulation.
To take advantage of this program, sign up on the Delaware Electric Co-op website. An energy expert will assess your home and provide valuable insights to improve comfort and efficiency. Beyond the initial improvements, you'll receive comprehensive recommendations that may qualify for money-saving rebates. These could include air leak sealing, home insulation upgrades, or HVAC improvements.
Start Checking Items off Your Home Maintenance Checklist
Ferris Home Improvements is a go-to home improvement company in Delaware, ensuring properties across the state are winter-ready. With over 40 years of experience and a team of highly skilled craftsmen, we only deliver work we're proud to put our name on. Contact us at 302-998-4500 today and let us take the hassle out of prepping your home for fall and winter!