5 Ways to Help You Decide Whether to Repair or Replace Your Roof
Winter is wrapping up and spring will arrive to Delaware tomorrow! Now it the time to inspect your roof to see how it fared.
How do you determine whether to repair or replace a damaged roof?
Making this decision should be based on the cost, the age of your roof and the number of layers your roof already has. Often, homeowners choose to reroof over an existing faulty roof in order to save the expense of having to tear up and cart off the old materials.
Have your roof inspected by a professional you trust in order to assess the following:
5 Signs That Your Roof May Need Replaced Rather Than Repaired:
Roof shingles are curled at the edges, torn or missing and past their life expectancy.
Excessive amounts of shingle granules in the gutters are a sign of advanced wear, indicating that the shingles have lost their ability to protect your home from the elements.
Leaks in your roof that can't easily be repaired and a sagging roof deck.
Experiencing extreme weather conditions, such as hurricane type wind and thermal shock, greatly reduce a roof's lifespan
Mold and fungi growing excessively on a roof can be a big indicator of rot.
Take into account the cost to repair versus the cost to replace and how much of your roof needs repaired. If there is not a big cost difference, you may want to consider full replacement.
A new roof is a big expense, but starting fresh has its advantages. It increases the value of your home, refreshes its look and lasts for decades.
If your roof is experiencing any of these symptoms and you would like some advice, call us at Ferris Home Improvement. We are roofing contractors in Delaware that can help with any roof replacement, repairs and preventative maintenance.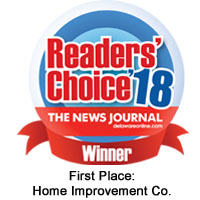 Ferris Home Improvements proudly carries the family name. We work hard to keep our stellar reputation as the #1 home improvement contractors in Delaware. We've been voted Delaware's #1 Home Improvement Contractor 6 years in a row. Whether it is as a backyard deck, front porch or wrap around porch in Delaware, Ferris Home Improvements is trusted throughout the community to do the right job for a fair price.