Time to Gear Up for Spring With Our $199 Fix It Home Exterior Repairs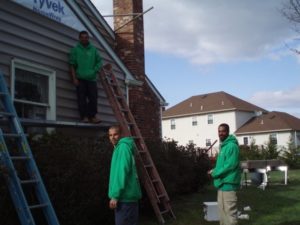 Winter can be hard on roofing, gutters, siding, and windows. These elements are your home's #1 defense against the elements. With spring on its way, now is the time to contact your home improvement contractor to come out and inspect your roofing, gutters, siding, and windows. Annual spring home exterior repairs and inspections can protect your loved ones and your home's interior.
Overlooked simple repairs, such as missing or displaced shingles, loose or leaky gutters, damaged siding or faulty window caulking can lead to more costly damage. The warm spring air could expand a small hole in your roof or siding, leaving your home vulnerable to the wet days ahead.
Keeping up with required siding, roof, gutter, and window repairs will help to avoid higher energy bills and bigger costlier repairs. Your home's exterior makes up some of the most expensive costs and maintaining windows, siding, and roofing properly can help to guarantee the longevity and functionality of your investment.
It only makes sense to ensure the exterior of your home is up to the job of protecting the interior from the extreme winds and storms that spring and summer are known for on the east coast.
How to Financial Plan for a New Roof, Siding, or Window Replacement
If you need a home improvement contractor to inspect and/or repair your roof, gutter, siding or windows, please consider calling Ferris Home Improvements of Delaware. We've been helping homeowners in the Tri-State area for decades and our reputation is stellar.
How to Hire a Roofing Contractor
We are currently offering a $199 FIX IT special on repairs to roof, siding, window, deck, gutter repair, or gutter cleaning. Mention this coupon at the time of scheduling.